May 31st, 2009
Are you having trouble launching IE8 from the desktop icon, the application icon or start menu?
Are you only able to launch it in 'Administrator' mode.
Are you running Sophos 7.6.8 on Windows Vista?
The problem might be related to the Sohos add-on. It seems that if you disable it, IE8 returns to working order.
Go to Internet Options and the programs tab. Click on 'Manage add-ons'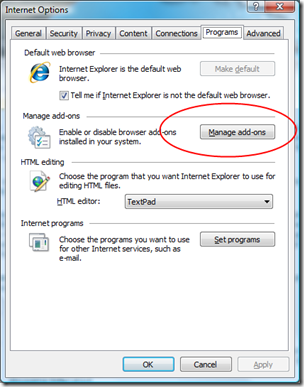 Figure 1: Internet Options in IE8
Now disable the Sophos Web Content Scanner
Restart all instances of the browser you have open.
Things should now be back to normal.
This is likely to have something to do with the other Sophos issues that are currently related to an update in the last week. See Sophos Antivirus on Windows Vista HP x64 not detected by Windows Security Centre.
SpittingCAML