May 30th, 2009
How does your organisation work? Does it promote informal communication, blogging and wikis? Do you spend your free time doing most of your research/blogging to help you be a better employee for your organisation?
Do you engage in the community, without backing from your team/department?
There's some interesting research out there on this particular topic, you'd be right in thinking that Google operates as a type 4 organisation (see below) and that some of the less successful IT companies are type 1 and 2. I'm proud to say that mine is somewhere in between 3 and 4 and hopefully becoming more 4, and given some more time a 5.
Types of organisation (… and typical retention of talent and empowerment profile shown in Figure 1)
Formal organisation
Communication top down
Communication mediums are controlled top down
Forums, wikis and chat
Enablement of online knowledge transfer between workers
Efforts to take control of the knowledge capital by structuring top down
Blogging tolerated
Value of the voice of the workforce appreciated outside the organisation
Blogging code of conduct is defined
Internal social interaction space exists but no funding
Internal blogging space supported
No official funding for user generated content
No top down direction on its use
Social capital integrated into organisation strategy
Empowerment of employees is written into company strategy
The infrastructure is provided and funded top down.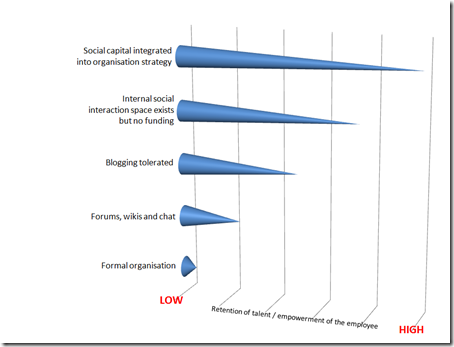 Figure 1: Empowerment of the employee journey. Adapted from Karen Lawrence, published in BCS ITNOW May 2009
Measuring social capital in the workplace
A way of getting buy in from the owner/CEO/shareholders is to present information as metrics. Lots of metrics are out there, but this is a good basis for a good argument for moving to become a type 5 organisation.
| | |
| --- | --- |
| Employee Social Capital (ESC) = | Employee * Weighting1 |
| Weighting1 = | Knowledge Capital * Linkage * Relationship Building * Information Seeking * Information Sharing |
| Employee Knowledge Capital (EKC) = | Employee competencies * Weighting2 |
| Weighting2 = | Intellectual property created * Project specific knowledge * Internal knowledge |
| Team Social Capital (TSC) = | ESC * # team members |
| Employee worth of Social Capital to Team = | ESC / TSC |
A team with lots of social capital is going to more successful and content. This is only a taster, and I'll have to buy the book like everyone else to get the big picture.
Read Karen Lawrence's book: Virtual Shadows: Your Privacy in the Information Society – I haven't got a copy myself yet!
Further research in other fields can be found on this topic. A particularly interesting one is an investigation into the correlation of workplace social capital and depression.
SpittingCAML