May 28th, 2009
I want my evening back!
Paranoia set in when I turned my PC on about four hours ago… Vista had been happily reporting that my machine was protected (for the last year+)… and it was, because it is loaded with Sophos Antivirus 7.6.8.. and it updated itself when I turned the machine on..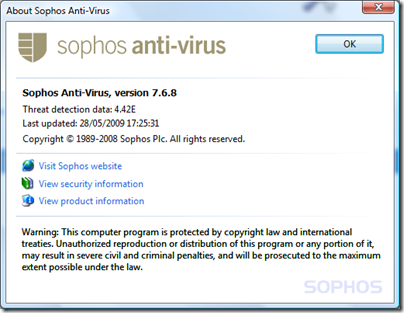 So why would Microsoft make me paranoid with this old chestnut: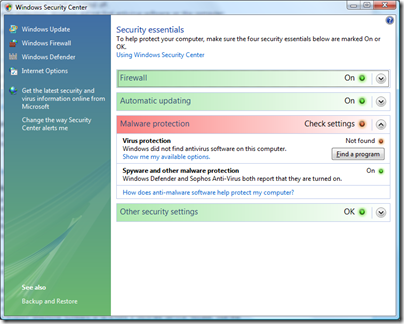 I ran windows defender full scan, then for good measure the Conficker removal tool… then a full virus check… nothing found… hmm I thought, I'll give the search engines a go.
Sophos appeared to know all about the issue, but it was stored deep in their knowledge base.
Microsoft also had 'Windows Security Centre does not detect the antivirus application that is installed on a Windows Vista-based computer' KB article. KB952923
I'm going to try the hotfix, and will report back if I doesn't work… I'll be paying close attention to the Sophos knowledge base as it seems to have more steps that Microsoft originally intended.
SpittingCAML