February 21st, 2009
Well, I say simple… It is simple to me, as I've knocked it up using the Meeting Agenda template (free with InfoPath 2007) with a slight addition of a task action field, and I've then knocked together a simple approval and rework based workflow.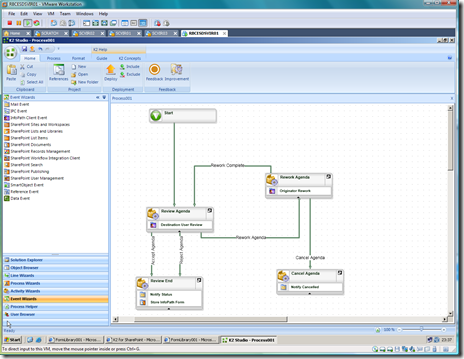 Figure 1: The finished workflow (I'm not going to teach you guys how to suck eggs by going through the creation of it… unless you'd like me too … another time perhaps?)
Figure 1 shows the finished article… I'm not suggesting that this is perfect example of an approval and rework workflow…  it is simply here to demonstrate a point.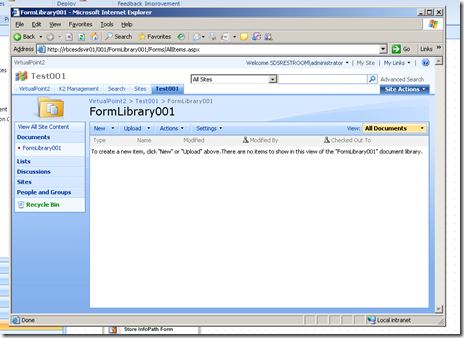 Figure 2: Destination Form Library for the creation of the InfoPath form that starts the workflow
I'm using a standard MOSS 2007 form library to store my InfoPath forms as shown in Figure 2. When 'New' is clicked, you see Figure 3.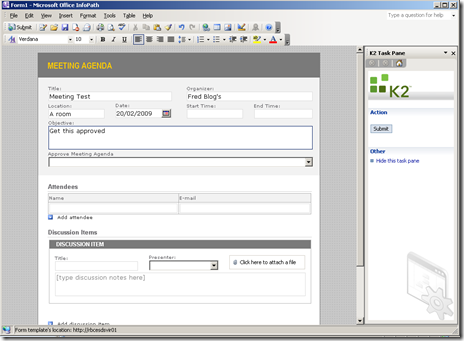 Figure 3: The InfoPath form created when 'New' is clicked in Form Library (FormLibrary001)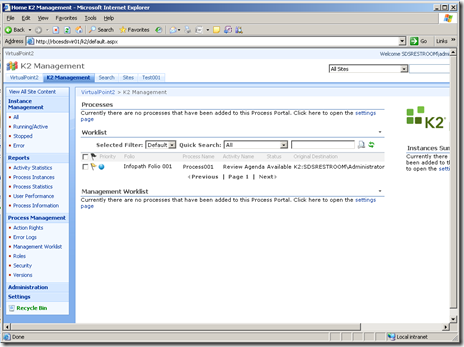 Figure 4: The K2 Worklist (which just happens to be in the Process Portal (K2 Management)) showing the new task for destination user 'Administrator'
As you can see in Figure 4, a task is added to the administrator user task list.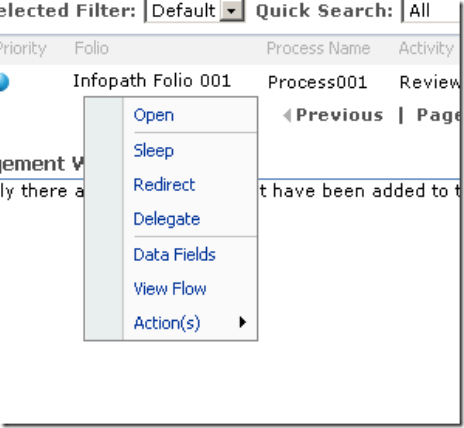 Figure 5: Clicking on Open will take the user back into InfoPath, or the Actions option will allow the user to action the task bypassing InfoPath - this might be useful if you want people to bulk action things. In this example I should really disallow this option. You can do this as part of the InfoPath client event outcomes.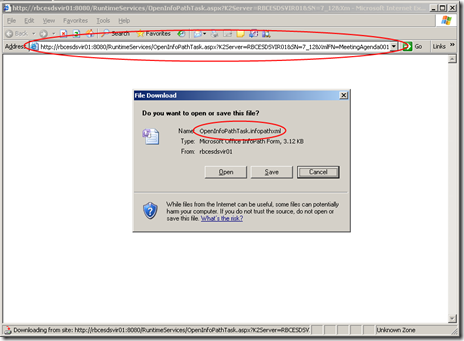 Figure 6: Shows the opening of the InfoPath form from the K2 BlackPoint runtime services… I've configured this on port 8080 (just so you know). This gives me a clue that unlike K2 BlackPearl, InfoPath forms only exist in K2 Server, and not in the form library… which confused me somewhat… or perhaps I've got the wrong end of the stick on that.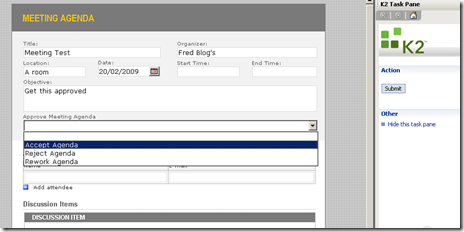 Figure 7:  User is able to select an outcome from the task action field as you'd expect


Figure 8: Shows the final resting place of the InfoPath form - this is because of the SharePoint document event I placed in the final activity. I assumed the form would be saved by default, but it doesn't seem to work that way… but it certainly did in K2 BlackPearl.
So how did I get the InfoPath form to be stored in the Library at the end… well the next screen shots and explanations will tell you how! I must admit, I thought it would do this automatically, but both the Beta 2 and RC versions of K2 [BlackPoint] behave in this way…
As you may have noticed in Figure 1, I added a SharePoint document event to the end of my workflow. This is also shown in Figure 9.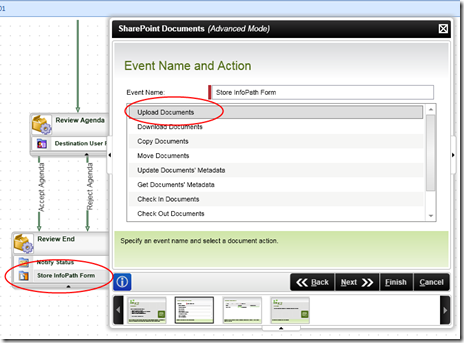 Figure 9: Shows the SharePoint document event on the final activity that saves the InfoPath form. I'm using the Upload Document Event Action.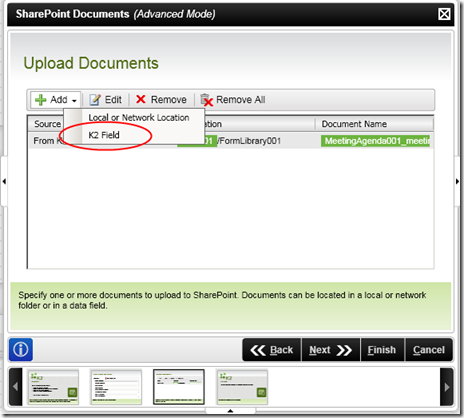 Figure 10: Shows that I'm going to be creating this uploaded file from a K2 Field. This is very important, as K2 BlackPoint is now being told that the file stream is not from a disk, but from the database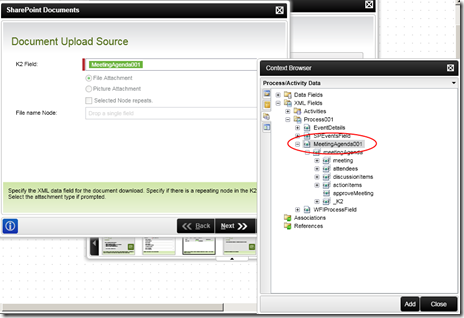 Figure 11: When selecting the K2 Field, be sure to select the Root node of your InfoPath form. The Root node will be the name of your Template (in most cases). My Template XSN was called MeetingAgenda001.xsn before it was integrated into the workflow.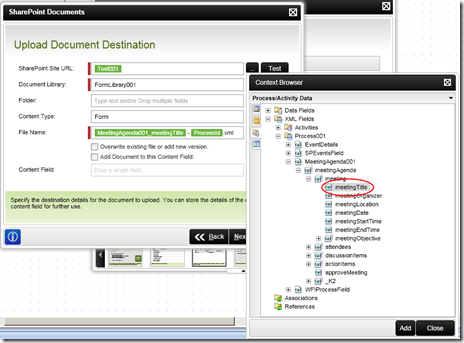 Figure 12: I am building the Filename of the output file using the meetingTitle field from my InfoPath template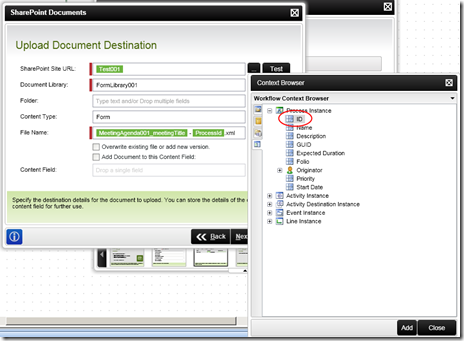 Figure 13: To ensure an unique filename, I utilise the Process Instance ID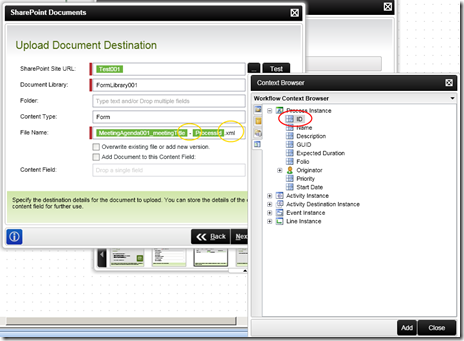 Figure 14: Be sure to space out your dynamic fields, I've used a hyphen. Also be sure to add the extension to the end. For InfoPath, the extension required is '.xml' (well, of course it is!)… You then end up with files named like they are shown in Figure 8
Of course, you may not have to do all this stuff… I might have an incorrectly set-up version of K2 [BlackPoint], but thinking about it, it does make sense to me.
InfoPath forms are 'protected' from unauthorised modification as they are stored in the database
InfoPath forms are only stored in the library when they are in a complete state (because you decided when they would be stored!)
This is definitely an improvement on how BlackPearl handles them, as they are editable (through other means… e.g. text editor) when they are mid workflow, and it was a concern of the customer.
Anyways, I hope this helps others understand how to do this sort of thing. Post a comment if you want more explanation on anything, but of course, check out K2 Underground first!
SpittingCAML