December 5th, 2008
I took delivery of my new toy this morning, it features the new Intel Core i7 (64 bit) processor. This is the successor to the Core 2 processors that hit the market in the last couple of years.
Key features include a replacement for the (Pentium) northbridge, meaning the processor has direct access to your triple channel DDR3, running at an obscene MHZ!
I don't claim to be any kind of hardware expert, so if you are interested, check out these links:
As a software engineer, I enjoy looking at all those processing threads I can be running, with four cores, hyperthreading! Shown in Figure 1.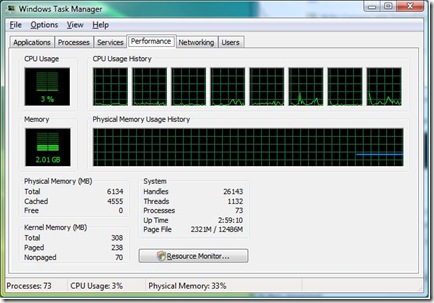 Figure 1: four cores, hyperthreaded!

Looks like I might be able to run multiple virtual machine images now, so I can test out a distributed SharePoint, BizTalk or K2 farm without giving the guys a work resource overload!
SpittingCAML