January 18th, 2008
So you've been investigating Kerberos, and you've done the command 'setspn.exe' setup (part of the Windows 2003 support tools install) of your Security Principle Names for your domain controller… but when you try to assign a user account some delegation rights… the damn delegation tab is missing!
The first thing to do is to check that your domain controller is operating in Windows 2003 mode. By default you'll find your system will operate in the Windows 2000 compatible mode.
To do this, look at the screenshot below, you'll need to go to active directory users and computers, right click on your domain, and click 'Raise Domain Functional Level'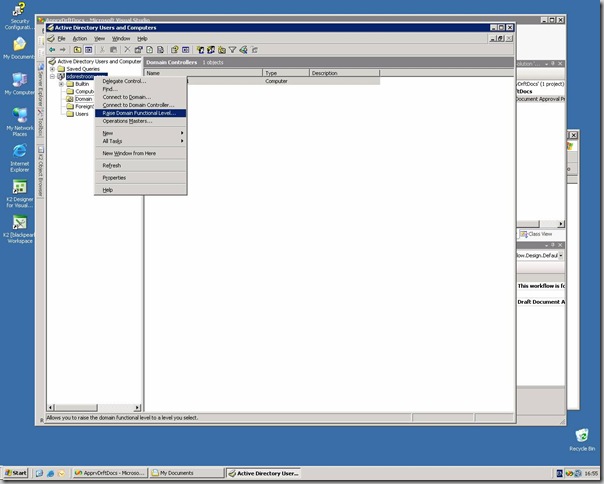 This will give you something like this:
This dialog box tells me that my domain controller is operating in the correct mode for the Delegation tab to be displayed in the active directory settings. If your server is running in Windows 2000 compatible mode, you'll be given the option to raise it's functional level - you should do this if you want the delegation tab to appear! I'm guessing, as I've never tried it out, that if you want the server to be a domain controller with Windows 2000 and lower machines it wont work when you change this setting, so beware, as once you've done it… there's no going back!
And there you have it… my server now has a delegation tab: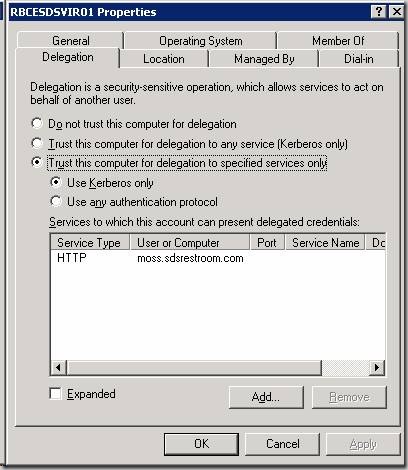 I hope this helps you out, as when I googled for this issue, I found nothing… please add any links to more descriptive discussion of this issue you you know of any.
enjoy
SpittingCAML