January 26th, 2008
With over two million documents created for some of our more major projects, the question of how to search and indexing them is becoming more and more difficult to avoid.
As a MOSS orientated company, it's easy to sway towards Windows Search 2008, in which Andrew Woodward [MVP] (among others) is a pioneer, so I read his blog whenever I can to see how this new technology is able to leverage our current search capability (also check out SharePoint user group UK [SUGUK] for examples and discussion about a demonstration he conducted this month).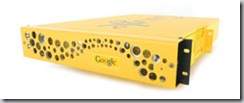 Google Search Appliance
I've also been looking at the Google Search Appliance as if it lives up to what it promises, it in theory should be a plug and play search solution. This should certainly appeal to the people with the money as it is a hardware and software solution in one nice neat yellow box, we've affectionately nicknamed it the 'cheese server' as it looks like a slab of Swiss cheese from the front - but looks aren't everything - it's functionality, total cost of ownership and return on investment that matter!
On the surface it seems that both Microsoft and Google have produced similar products in very different packaging… having used neither product, I've so far been relying on the rest of the world to harbour any opinion over which would suit our customers best.
In typical Microsoft fashion, they've offered an express version of the Windows Search 2008 system for free, with no limit on the number of documents that can be indexed, this is presumably to take out the competition as Google have set hard limits as to how many search items can be indexed.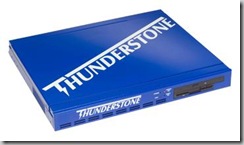 Thunderstone Search Appliance
I shouldn't forget of course, another competitor company Thunderstone who have another rival product in their flavour of  'search appliance'.
I'll have to do a little more digging, ask some of the experts and perhaps have a play with some of them to see how they will interact with some of our more disparate systems such as Telelogic Doors, Meridio and Borland Star Team.
SpittingCAML